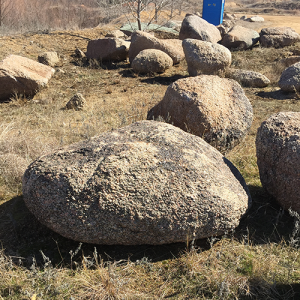 Blessing Gravel is proud to be the preferred source for superior decomposed granite, decorative stones and boulders for landscaping, and granite aggregates for construction projects.
Whether it's a xeriscape or flower garden, courtyard or pathway to beautify a home or church; or a high-profile enhancement to the Myriad Gardens, Devon Energy Building, Oklahoma City Zoo, or a popular brewery or restaurant, Blessing Gravel provides the highest quality, precision-processed decomposed granite, decorative granite stones, and eye-catching boulders for show-stopping results.
Working with Blessing Gravel was an incredibly smooth process. You can tell that they are dedicated to their customers and products from the start of a project to the end - Ken Thorne, Cole Construction
We were very impressed with the quality of service and products that we received from Blessing Gravel. I highly recommend them to anyone in search of top of line landscaping products. - Tucker Wilkinson, Wilkinson Nursery
Awesome Variety
"No matter what my project calls for, I know Blessing Gravel has the colors and sizes I need." - Don, Lowe's Backyard Gardens
The Best Quality
"We were very impressed with the quality of granite products that we received from Blessing Gravel, LLC. In today's market, it is very seldom to find a company that is so dedicated to ensuring that the quality of their products and service are consistent in appearance from the beginning to the end of the job. What a wonderful experience. The folks at Blessing have earned our future business." - Steve Barber, Blackgold Consulting
Great Service
"The service that we received from the team at Blessing Gravel, LLC is second to none. They care about their customers and products and go out of their way to make sure everyone receives the best possible service every time. Thanks for a job well done!" - Jeff Jenson, Cobblestone, US
Stunning Contrast
Our Desert Tri decomposed granite is the perfect contrast to the beautiful shrubbery, trees and gray stone of this building.
Tropical Vibe
We love the sunny, tropical feel of this bed. Our Mohave Boulders really compliment the palm and lush greenery.
Mix and Match
Our decomposed granite looks great with anything — even an old boot!
Best on the Block
Nothing brightens up the neighborhood like beautiful flora planted in rich granite.
Go West
This cactus is thriving in our decomposed Canyon Gold. We love the western feel of this awesome landscaping!